2012 ¹ 4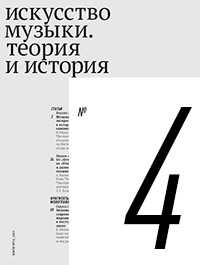 The idea of this issue came under the influence of the Keldïsh Conference of 2011, dedicated to Russian-Spanish musical relations. Not all the papers delivered at the conference have been converted into scholarly articles. On the other hand, not all the topics discussed in the published articles were explored during the conference. Be that as it may, the main subject matter of both the Keldïsh Conference of 2011 and the present issue of our periodical is the interaction between Russian and Spanish musical cultures.
One of the conference's major events was the presentation of S. Tïshko's book 'Glinka in Spain', recently published in Kiev (an excerpt from it was published in No. 1–2 of our journal). The book is reviewed in this issue.
The materials published in this issue include also a list of dissertations in musicology defended in Russia during recent years (2008–12). It gives a general idea of the scope of topics covered by our field and of the problems that are especially attractive for the specialists.